When I was in my prime, there certainly weren't the vast amount of supplements available to lifters today. In fact, they were pretty basic, but they were still divided up into the same categories (pre-workout, post-workout, protein, etc.) and there were some that I really relied on to be successful.
These days, supplements have really advanced to impressive degrees, and we've really put forward a great deal of resources to make sure our supplement line is both safe and effective. Endless trials and studies have proven this, and when implemented properly – especially during a cutting phase – they can play a major role in getting leaner and preserving (or even building) muscle.
For my own contest prep, I wanted to make sure I could reveal all the hard-earned muscle I had achieved in the gym. I spent a great deal of time and pushed my body to the brink to put on quality muscle, and I didn't want it disappearing during contest prep because I wasn't taking the right supplements or I wasn't getting the most out of my diet.
Through the years, I've found what has worked and what hasn't through endless trial and error, and I'm excited to pass those successes on to you.
This supplement regimen is vastly different from the old days, and that means it's vastly improved as well. When utilized and timed correctly, these supplements and this diet plan can yield outstanding results, getting you lean, keeping you muscular and taking your body to new levels. Don't worry about any of the guesswork of what to take, when to take it, what to eat or any other questions you may have. That's all been removed with this plan. All you have to do is follow along and the benefits will come.
This supplement regimen is a huge improvement from what I had, and I have the highest level of confidence that your body will look decidedly different if you fully dedicate yourself to this program. Everything is presented to you here and now it's up to you to attack it with an incredible fury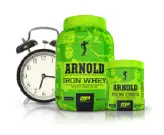 EARLY MORNING
Take ARNOLD IRON CUTS
and ARNOLD IRON WHEY,
1-2 scoops with 8-12 oz Water

DURING WARM-UP
Take ARNOLD IRON PUMP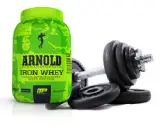 POST WORKOUT
Take ARNOLD IRON WHEY
2 scoops with 8-12 oz Water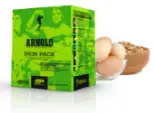 Meal 1 (2 Hours After Workout)
4 Whole Eggs
1/4 Cup Oats
ARNOLD IRON PACK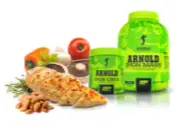 Meal 2
8-10 oz Grilled Meat
3 Cups of Veggies
1 Serving of Almonds
ARNOLD IRON CUTS,
before Meal (Optional)

Meal 3
2 Cups Non-fat Cottage Cheese
1 Serving Almonds

Meal 4
8-10 oz Grilled Meat
3 Cups of Veggies

Meal 5
ARNOLD IRON WHEY,
2 scoops with 8-12 oz Water